In our series of articles on how to protect yourself when buying second-hand equipment, John looks at how some auction houses actively help buyers of second-hand plant, and others do not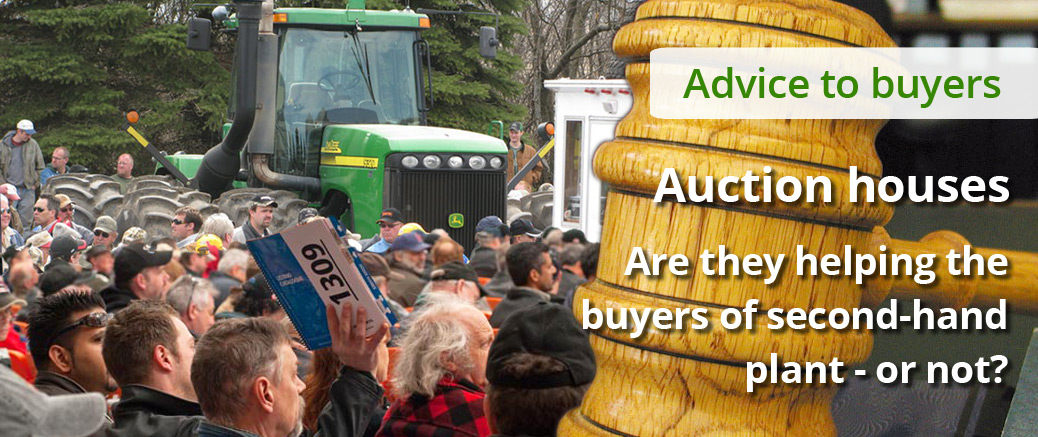 In an article in this newsletter some weeks ago we suggested that many auction houses were not helpful enough in their "advice to buyers" on their websites, despite the risk of stolen plant and equipment coming up for sale. Instruction on how to place bids and make payments was there, and information about commission fees – and in some cases something about health and safety. But there was little in terms of helpful advice to buyers on how they could avoid falling foul of thieves and fraudsters.
The majority of auction houses very reasonably believe that responsibility for checking items lies with the purchaser. But most auction houses don't make that clear, let alone give any really helpful advice. That said, there are some honorable exceptions. Last month we covered three of those in our newsletter.
And today we look at our survey of 24 auction houses, as a whole:
Advice on due diligence – 3 auction houses. 3 auction houses out of 24 give specific and helpful advice about the need for due diligence. Out of these 3, one auction house states that it does due diligence into all items, on behalf of customers. Another gives a link to a due diligence service that customers can use. And the third states that all items for auction are its own property, and are thus guaranteed 'clean'.
Money back in the event of theft – 3 auction houses. 3 other auction houses offer money back in the event of outstanding finance or if the item turns out to be stolen – providing certain conditions are met.
Practical tips – 2 auction houses. 2 other auction houses give useful practical tips in order to help customers avoid fraud and stolen goods, and one of those states that an inspector has checked all items physically, though not for due diligence as such.
General advice to exercise care – 2 auction houses. Two further auction houses tell would-be buyers that they need to exercise care when purchasing, but only in general terms.
No useful advice whatsoever, regarding fraud and stolen goods – all others! The 14 remaining companies – over half of those surveyed - offer no advice whatsoever to the buyer to be aware of fraud or of stolen goods, or what to check and how to do it.
In our next article on this subject we will look at advice to buyers on the websites of dealers, as opposed to auction houses. In the meantime, we encourage our readers to give us their thoughts on this important topic.
In due course we will return to the topic to see what has changed. For the time being, "no names, no pack drill"!