An interview with Gareth Barkwill, TER's Manager, about his experiences in court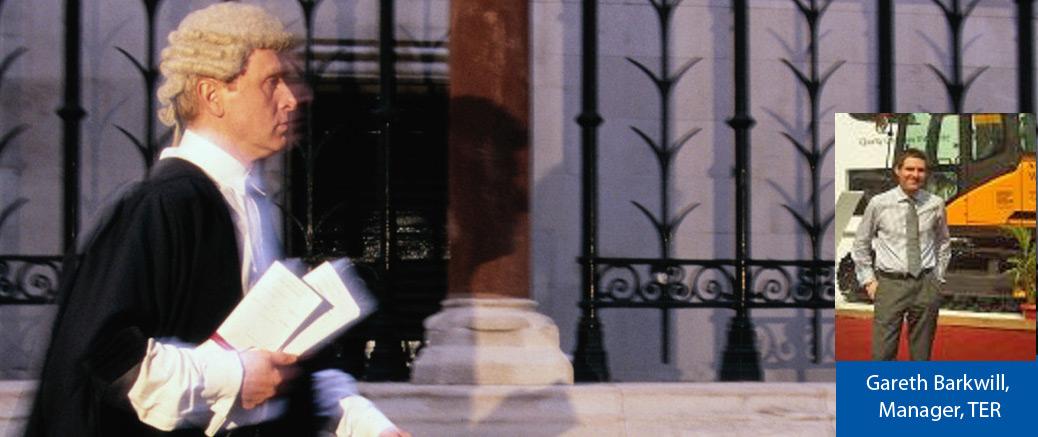 So Gareth, tell us what is the job of an expert witness in plant theft cases?
Firstly, it's to comment on the identification of the equipment which is the subject of the criminal investigation. It needs to be established whether the equipment is that which has been stolen.
Secondly, in relation to the possible motive; the prosecution are attempting to prove that the defendant has a clear motive, either to commit the act of theft, or to commit a handling offence – that is, facilitating the sale of stolen goods. So I think those are the two issues that are at play for an expert witness.
The expert witness is in a position to do this because he or she is familiar with the identification of the machine and the process thereafter. They would also have an understanding of the ways in which these things are stolen and then sold on, so that's where the understanding of motive comes into play.
So why you?
Good question! I'm often involved in the ongoing investigative work that TER assist the police with so I have a lot of background experience. I also have a very strong technical knowledge when it comes to the identification of plant machinery so I would probably be – though I would like to remain modest – one of the stronger candidates when it comes to this very specific subject.
I have twelve years of experience in this field – the identification and theft of equipment – that's all I've done, in many cases 24 hours a day, for the last twelve years!
Do you enjoy the experience of being in the court room – do you ever get nervous?
I don't think I get nervous. I'm always very particular about preparation, as I think anyone should be when they're required to stand up and give evidence, bearing in mind the implications that your evidence can have on the individuals who are being prosecuted and the magnitude of the event in general. So for me, it's about getting there early, in most cases the night before, and going over my statement and all the paperwork I have submitted to the police and the Crown Prosecution Service (CPS). I always want to make sure that I'm in a position to represent myself and TER and to serve the court in the best possible way.
Can you give an example of a successful conviction in which you think TER played a key role?
Many cases have gone to Crown Court as a direct result of a TER investigation: where we have identified a possible offender and taken a file to the police force who have in turn taken it to the CPS. The CPS has then determined that there is sufficient evidence and that it is in the public interest to bring about a prosecution. In many cases we have been directly responsible for that.
In other words, such offenders, many of whom have been considered serious organised criminals, have been sent down for a long time because of TER's contribution.
What is your advice to criminals, apart from – obviously – don't do it?
My advice to criminals would be to cover your tracks – forgive the pun – because if you don't, then ultimately, whether it's within a month - or two or three years – you will be found.