We talk to Plant Investigator Andy Bird, formerly of the Essex Stolen Vehicle Squad and Harlow CID...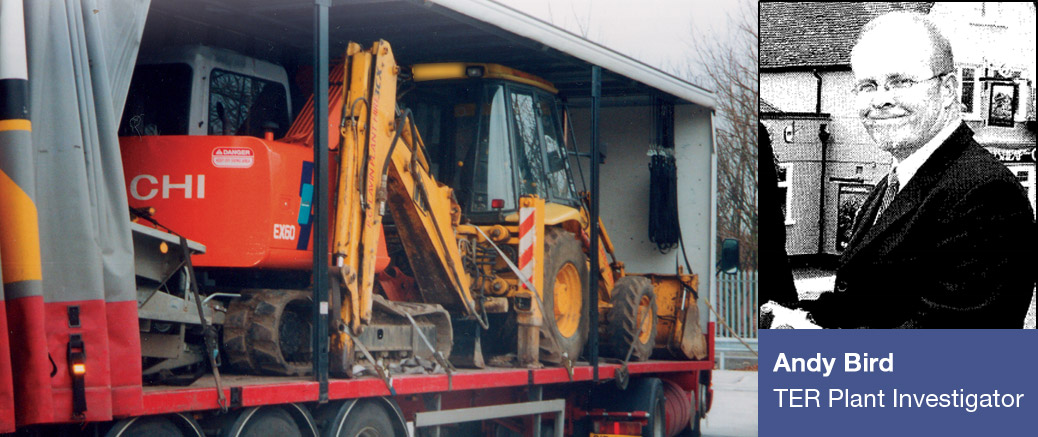 How did you first get involved with plant and equipment theft?
Through my service with Essex Police, I always leaned towards the investigation and methodology of auto crime but my first experience of plant-related criminality came through a guy called Mal Finch who worked for the Metropolitan Police Service. It was around 1987 when I was a Detective Constable working at Harlow C.I.D. that I was asked to meet with him at an impromptu plant yard in Hatfield Heath, Essex.
On arrival, Mal wandered between various items of plant – some stripped and some whole – and clambered among the items stored there. He marked up items which he thought were stolen and a few phone calls later resulted in the theft details being disclosed. I was surprised at the varied locations of these thefts – the problem was truly nationwide!
This perked my interest in matters of stolen plant, especially when I researched the stolen/recovery figures which were both very high for thefts and very low for recoveries. I remember Mal's comment: "Stolen plant is no different from a stolen car - it's just bigger!". Shortly after I joined the Stolen Vehicle Squad.
What was the most satisfying aspect of that police work?
At that time, and in some instances today, plant theft was definitely the 'ugly sister' to vehicle theft. This was despite the fact that one decent piece of plant machinery recovered was often worth at least three or four times that of a car! By far the most satisfying aspect of the recovery of stolen plant is the ability to return the item to the rightful owner – be it a small plant operator, a large company or an insurer. So much kit had been sub-rented or loaned and then disappeared (the owner understandably thought it was gone for good) only to be told by TER that it had been recovered and was subsequently returned. So many small plant operators self-insure and meet their own losses. A phone call from TER to say a particular piece of kit has been found is therefore always met with incredulity and thanks.
What was the most challenging aspect of the work?
The most challenging aspect, to be honest, has been getting the police (especially in the early days) involved in the acceptance and execution of plant-based information and intelligence. The strange part about this is that, generally, once TER works with the police on one case, we are regularly used - especially by vehicle theft units who may have little or no plant theft experience and welcome TER's expertise.
How did you get involved with TER and what does your role involve?
After I retired from the Essex Police Stolen Vehicle Squad in 2004, I was approached by TER to work part-time as an investigator. Since that time, I have attended numerous police operations, plant sales and auctions throughout the UK and Europe on TER's behalf. My work then, as now, involves the investigation and recovery of plant, both by inspection and approved chemical restoration means.
Can you tell us about any particularly exciting cases which you have worked on, either with the police or TER?
Shortly after joining TER, I attended the Port of Harwich on an embarkation berth and found a number of curtain-sided articulated trailers. Through the side covers I could see large lumps and bumps made by the internal contents and, on opening the curtains, I found numerous items of poorly and inappropriately packed-in plant. This included telescopic handlers, scissor lifts, mobile platforms, backhoes and small diggers – all bound for Cyprus.
The local Harwich Police arrived with the Sergeant in attendance who was worried that the identified plant would have to be stored in the small rear yard at Harwich Police Station! Once I told him that TER would arrange the removal and storage on behalf of the owners, he became more interested and assisted in enquiries – and we received full support from the port authorities.
Attending police roadside checks, plant theft operations and briefings through my role with TER is very satisfying. I have received nothing but warmth and support and, indeed, a degree of 'great, TER are here' from most forces. These operations result in curiosity from officers about the methodology of the crime, once they realise that the P.I.N and V.I.N. are really one and the same in terms of identification tools. Following these operations, police want further information about plant theft, which we can provide through courses and additional material.
What can plant and equipment owners do to make life more difficult for thieves?
Plant owners and operators need to take better care of their plant and need to know where their items are. Too much plant is still seen in fields and on verges, perhaps with a few plastic barriers surrounding and with little immobilisation or obstacles to removal.
What is your advice to anyone who wants to buy used plant and equipment?
In terms of the purchase of used plant and equipment, prospective purchasers need to do all the checks possible and TER's database is a great way to do this. Service records are also a good source of establishing the integrity of a machine, as well as the usual tracker/immobilisation systems.