Two men who were linked to handling a total of 24 stolen vehicles worth £100,000 have been jailed this month...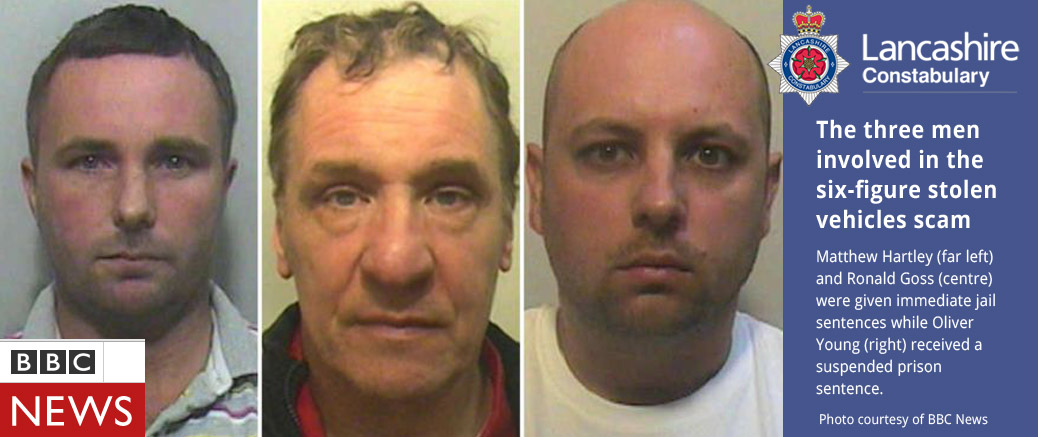 The investigation was initiated by TER in 2012, after Matthew Hartley started using the TER Check service and various discrepancies were found. The Lancashire Police Stolen Vehicle Squad then, with TER in support, brought charges against the three individuals following a complex investigation. TER's Manager, Gareth Barkwill, gave evidence in court as a Crown Prosecution Service witness, along with many other witnesses, including specialist detectives from Lancashire Police. This case serves as an excellent example of the benefits of public and private partnerships and the outstanding work of Lancashire Police.
"These three men have wreaked havoc on innocent peoples' lives. It is no exaggeration to say these crimes have had a devastating impact on some of the victims. One business folded after having stock stolen, a marriage broke up under the strain and several small businesses suffered financial hardship."
DC MARTYN LEIGH, Lancashire Police
The original story as it appeared on the BBC News website:
Two men who handled stolen vehicles worth £100,000 have been jailed.
Matthew Hartley, 43, from Cliviger, Lancashire and Ronald Goss, 59, from nearby Haslingden had admitted stealing equipment and vehicles before selling them on with cloned registration plates. They were jailed for 15 months and 14 months respectively.
A third man, Oliver Young, 34, from Rossendale, Lancashire was given a suspended term at Preston Crown Court. He was handed a 30-week sentence suspended for 18 months, with 200 hours of unpaid work.
Police said the three men stole high-value plant machinery and campervans, bringing them to Burnley and Rawtenstall. They covered up the original identities of the stolen vehicles, creating new identification plates using the details of identical vehicles which had been sold out of the country.
A total of 24 stolen vehicles - a motor home and 23 items of plant machinery - were later recovered from as far afield as the Isle of Wight and Elgin in the north of Scotland.
See the original story on the BBC News website: BBC News