Two brothers who stole over £450,000 worth of plant from South Wales have been jailed this month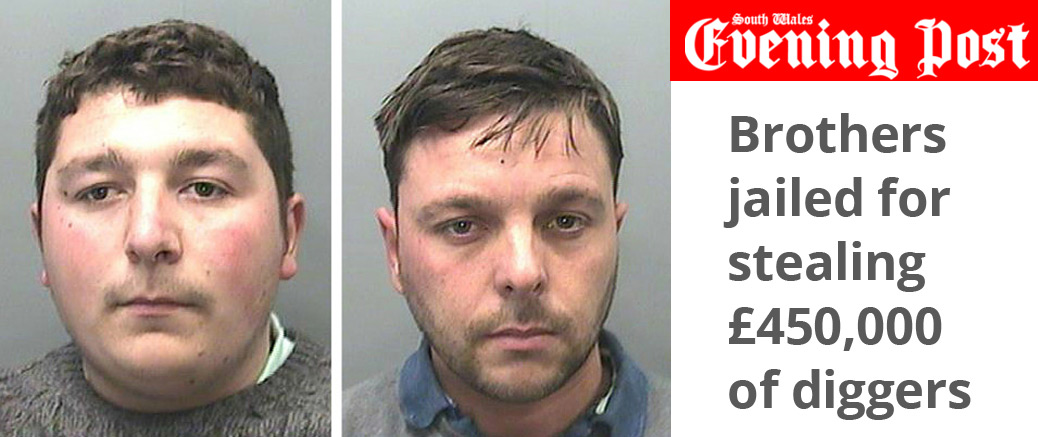 Stephen and George Aaron Locke have been given a combined sentence of seven years and four months after they targeted high value machinery over a period of fourteen months.
Stephen Locke will face longer prison time than his brother. This is because he stole the items while in breach of a suspended sentence for handling stolen goods and thus earned himself a further eight months in prison.
The pair pleaded guilty to 23 offences, mainly of theft and attempted theft. George Locke's lawyer told the court that his client was just trying to provide for his family. However, Judge Peter Heywood suggested that the family would have been "living in some luxury" judging by the value of items taken.
Among the machines stolen was a £38,000 Takeuchi digger, £19,000 worth of tools and a £27,000 JCB excavator. It is estimated that George Aaron Locke was responsible for stealing £203,088 worth of equipment and that Stephen Locke stole items worth £250,000.
Prosecutor Frank Phillips believed it was not in the public interest to pursue charges against George Locke's wife Charlene, who had previously appeared in court to enter a not guilty plea to six counts.
Police uncovered the pair's operation using mobile phone data and CCTV footage. They then found further evidence at Stephen Locke's residence where a number of universal keys, as well as some of the stolen items, were discovered. Judge Heywood commented during sentencing on how little of the stolen items had ever been recovered.