Plant theft doesn't only negatively affect the victim as was shown this month when a stolen tractor caused long train delays...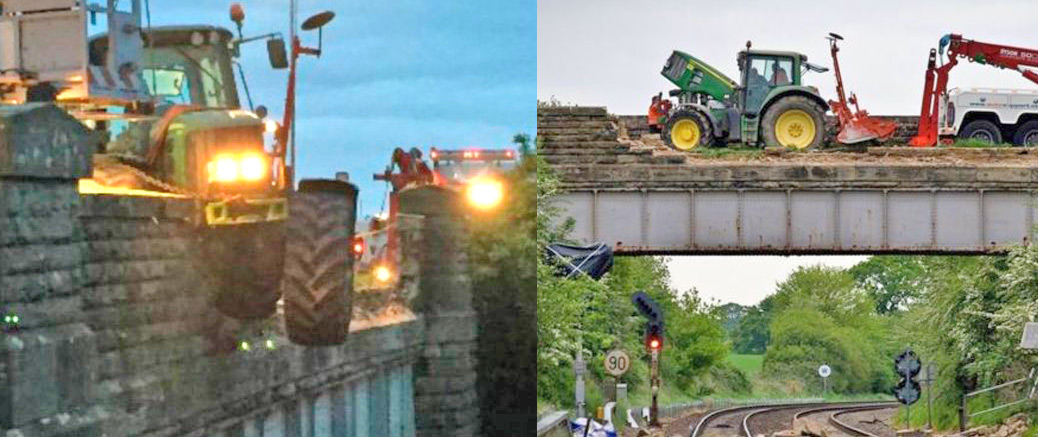 A tractor thief caused more than a headache for the owner of the stolen tractor, after he crashed into a railway bridge trying to make his escape.
Trains were cancelled on the busy Bristol to Birmingham line as the machine was driven through a brick wall, leaving it hanging over the tracks between Cheltenham and Worcester.
A train which was making its way to Birmingham from Cardiff hit the rubble which had fallen from the bridge - luckily, although it was damaged, the train was not derailed.
The line had to be closed on the night of Friday the 13th (we're not superstitious here) as police and engineers worked to pull the tractor back from the edge. The situation was so precarious that safety checks weren't complete till Saturday lunch time.
The tractor had been stolen from a farm in Worcestershire earlier that evening and, at the time of writing, police are looking for a man who was seen fleeing the scene after the crash.
West Mercia Police described the individual as a white man in his early 20s, wearing dark trousers and a purple hooded top.
Witnesses are encouraged to call West Mercia Police (Dial 101) or visit https://westmercia.police.uk/ and quote incident number 773 of 13 May 2016.
Photos courtesy of CrossCountry and BBC News.