We look into the statistics for plant and equipment theft and ask 'What are the most commonly stolen items?'...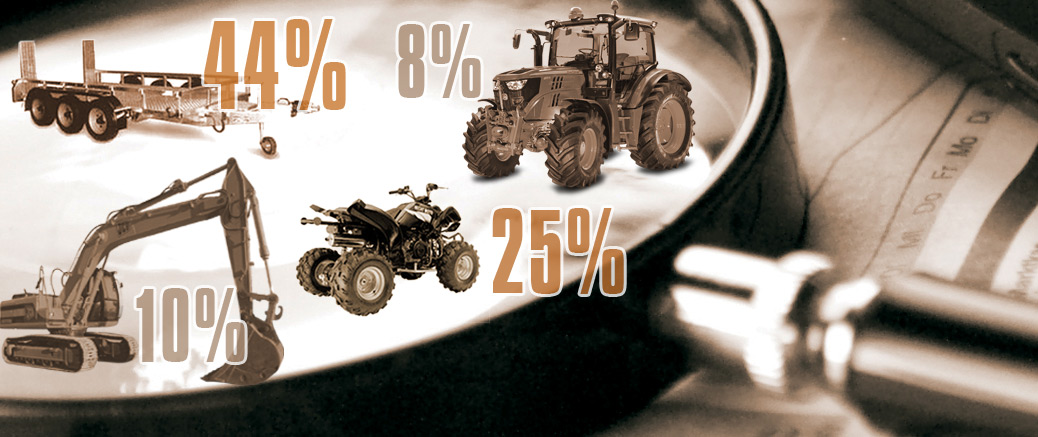 This short report indicates plant and equipment theft trends, as reported to TER, over the last three months.
Trailers have represented 44% of losses recorded by TER, and have thus been much the most popular item, from a thief's point of view. This indicates the relative ease with which they can be stolen and sold by thieves. By far the majority of stolen trailers are made by Ifor Williams, reflecting their market dominance.
The next most popular item for a thief over the last few months has been quad bikes, representing 25% of losses reported to TER during the period. Of these, Honda is the most popular make, comprising 55% of quad bikes stolen.
Of the remaining 31% of the items reported to TER as stolen, 10% constituted excavators of various sizes and 8% related to tractors.
We can provide a full list for those who might be interested.
We will continue to write about trends over the coming months.
In the meantime there is considerable scope for improving security in some quarters. Security tips can be found on our website and there are marking and tracking products which complement TER checks to make life more difficult for thieves.
Specifically on quad bikes, we note that the ratio of TER theft checks to the number of actual thefts is extraordinarily low. We would advocate that insurers insist that TER checks be done before they provide cover for quad bikes, in order to reduce the incidence of their clients unwittingly handing over money for stolen quad bikes. As we write, there are 3,756 quad bikes registered with TER as stolen.
We continue to advocate the prompt reporting of losses by insurers and by private individuals and companies. It costs nothing to report a theft to TER and to other interested parties. Reporting thefts improves the utility of databases as well as the likelihood of recoveries.
Some insurance companies are assiduous about reporting losses and do so in good time. Other insurers are less prompt and some don't report losses to TER at all. The same goes for loss reports by private citizens and commercial companies.
In short, there is much more that can easily be done in order to combat plant and equipment theft.
Call TER to find out more about the data we collect and how it can help you protect your equipment more effectively - Tel: 01225 494599