On the afternoon of Wednesday 10th August 2016, PC Angus Nairn of the Central Motorway Police Group (CMPG) overtook an Ifor Williams box van trailer on the M5 motorway.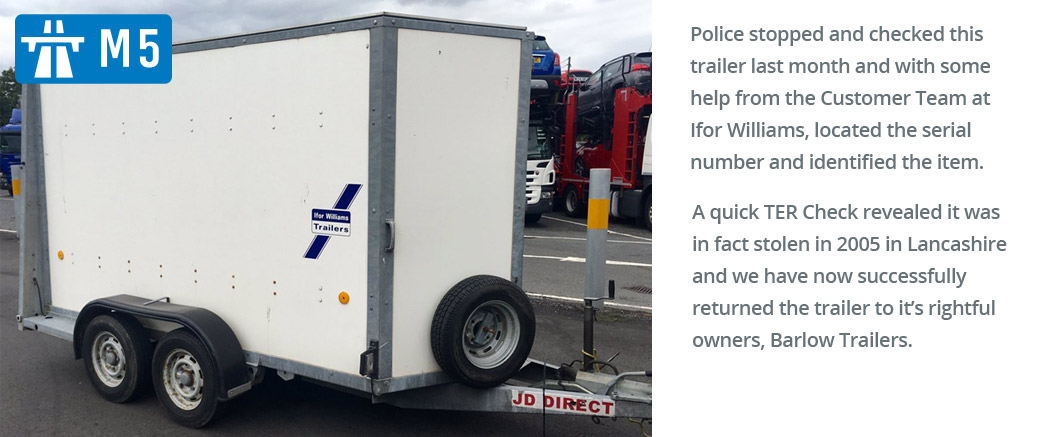 The officer's suspicions were aroused when he noticed that the manufacturer's serial number plate had been removed from the chassis. As a multi-purpose trailer, box van trailers are very useful and extremely popular – not least with equipment thieves!
PC Nairn and his colleagues escorted the driver into Strensham Services, some 50 miles south of Birmingham, so that the trailer could be examined further.
It transpired that, in addition to the missing serial number plate, the laser-etched chassis number had been deliberately covered. After contacting the ever-helpful customer team at Ifor Williams Trailers, the officers were able to identify the correct serial number of the trailer. However, a check against the Police National Computer (PNC) yielded no data.
Then, PC Nairn called TER and a theft match was found! The trailer had been stolen way back in 2005 from Barlow Trailers in Lancashire - one of the leading suppliers for Ifor Williams Trailers - and had been missing ever since. Arrangements have now been made to return it to Barlow Trailers who were pleased with the result.
This case is a further testament to the value of team work and cooperation - with the police, the manufacturer's and TER working together in the interests of returning stolen property to its rightful owners.
Speaking after the event, PC Angus Nairn said:
"TER have always been very helpful to the police and other enforcement agencies when identifying stolen plant and machinery and I always give them a call when checking suspicious equipment or vehicles".