TER is offering significant discounts to auction houses and dealers who check all their equipment with us.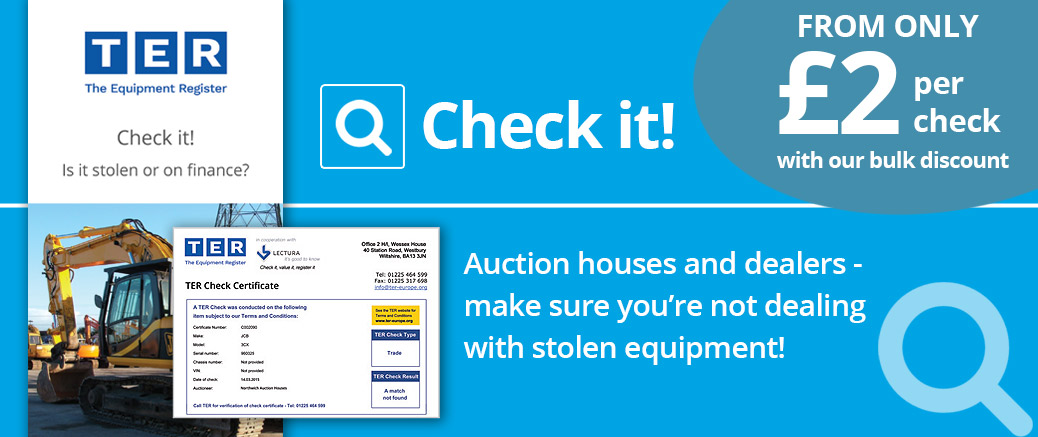 Because of the volume of checks we are now doing for our clients, for the same overheads, we have been able to drive down our prices. This means that we can pass those savings on to you. As a result we compete on price with any other checking solution, and we more than compete on quality.
Being one of the most competitively priced due diligence services in Europe means that not only do you get peace of mind but also value for money!
If you are a dealer or an auction house and purchase advanced credit, you could now pay as little as £4 for a TER theft and finance check – and as little as £2 for just a TER theft check. Compared to the cost of any piece of second-hand plant and what you stand to lose if it turns out that it is stolen, these discounted prices are truly "a drop in the ocean".
We'll also send you a certificate and other useful information on how to protect plant that you can pass on to your customer - reinforcing your reputation and giving your customer the awareness to help us crack down on plant theft - which is costing the economy an estimated £800 million per year.
How it works
Just like mobile phone credit. You pay an advance fee and every time you run a check it reduces your credit. Then simply top-up using one of the packs below. Simple!

Further information
For more information or to see how TER can help give you and your customers peace of mind, please contact Lindsey Nash at TER.
Tel: 01225 464599 or email: lindsey.nash@ter-europe.org