Bungling thieves using a John Deere telehandler come unstuck attempting to remove an ATM in Lincolnshire.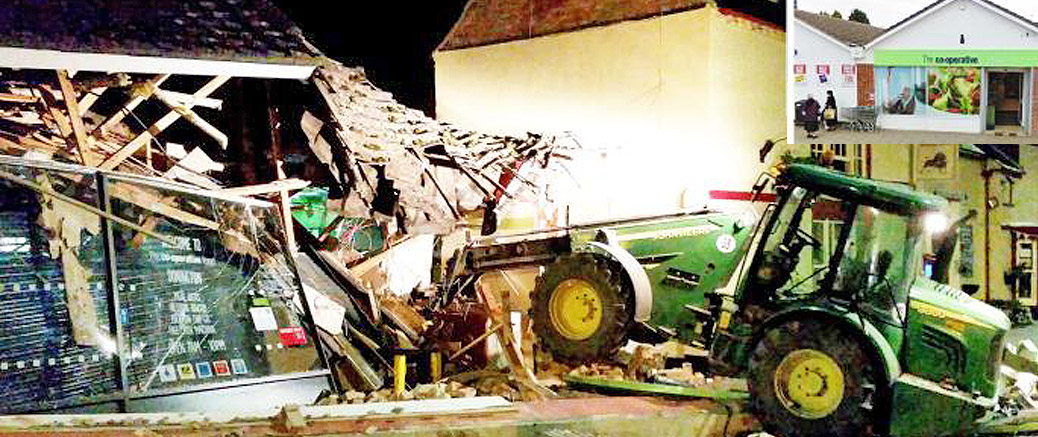 Photo courtesy of South West News Service
Thieves attempting to steal an ATM in Lincolnshire in September, armed with a John Deere telehandler, only succeeded in demolishing the Co-op shop in which it was housed.
The premises, in Donington, Lincolnshire, were reduced to rubble during the raid at 3.20am on Thursday. A nearby resident said: "There was an almighty bang and then another one. They reversed the digger again and again into the shop front to get the ATM. It reminded me of the Michael Caine line in The Italian Job, when he says 'You're only supposed to blow the bloody doors off!'".
The gang left empty-handed in a dark 4x4. Police are investigating.
We spoke to Andy Bird, former Detective Constable of the Essex police stolen vehicle squad, specialising in the restoration of erased chassis and serial numbers, who has seen a rise in this type of plant and equipment based crime and ask what motivates thieves to steal this type of equipment.
"The greatest motivation in terms of theft of plant is the fact that it is generally easy. Plant manufacturers have been generally slow in adapting anti- theft precautions unlike the car industry. There is a feeling abroad that plant theft causes nobody any problems as insurers will pay, therefore no losers really, stolen plant is very attractive as values are fractional potentially compared with legitimate sellers/outlets, there is definitely a no questions asked status among some dealers/buyers."
TER have been assisting the police with vehicle identification in order to return the telehandler to its rightful owner and we are preparing a deeper look into the spate of recent equipment crimes in the Lincolnshire area. Watch this space!