Cheshire Police seized a large quantity of plant and equipment they had reason to suspect had been stolen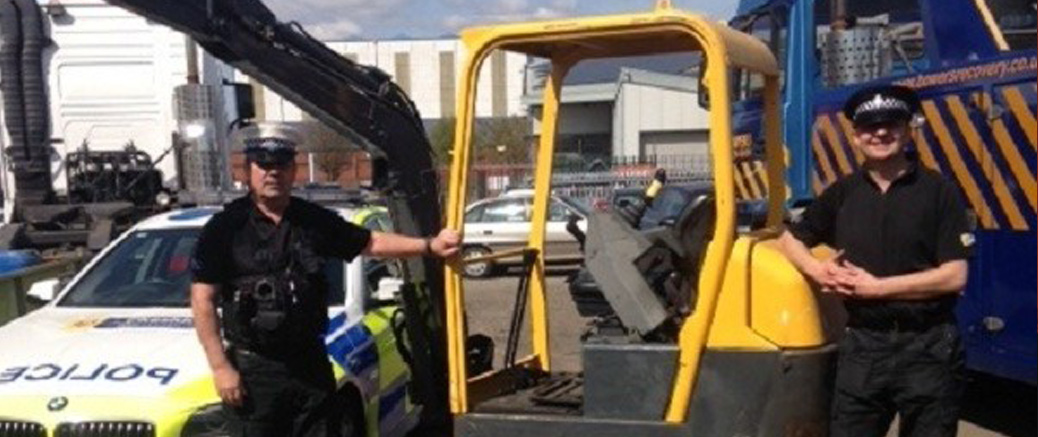 Pictured above: PC Mike Dawber and PC Andy Hunt of Cheshire Police
As part of a recent POCA (Proceeds of Crime Act) investigation, Cheshire Police seized a large quantity of plant and equipment which they had reason to suspect had been stolen. Amongst this hoard was a Volvo EC15 which, for those not already in the know, is a 1.5 tonne mini excavator propelled on rubber tracks. Attempts had been made to disguise the identification of the machine by scratching out the serial number (possibly with a screwdriver) before painting over it - but the specialist police vehicle examiners were still able to verify its identity by other means!
Interrogation of numerous records failed to identify it as stolen. But never fear, TER is here. For within just a few clicks, TER came to the rescue with our extensive database of ownership and theft data from owners, insurers and police forces. With our help, it was determined that the excavator had been reported stolen from the Derbyshire area some six years earlier!
As a direct result of this investigation, three malefactors have been detained and, ever alert, PC Mike Dawber together with his colleagues Andy Hunt and Geraint Williams (Stolen Vehicle Squad officers) recovered two stolen quad bikes – in addition to the excavator. Police enquires are ongoing...