The imagination of criminals continues to pose a challenge to law-abiding folk in the agricultural plant sector.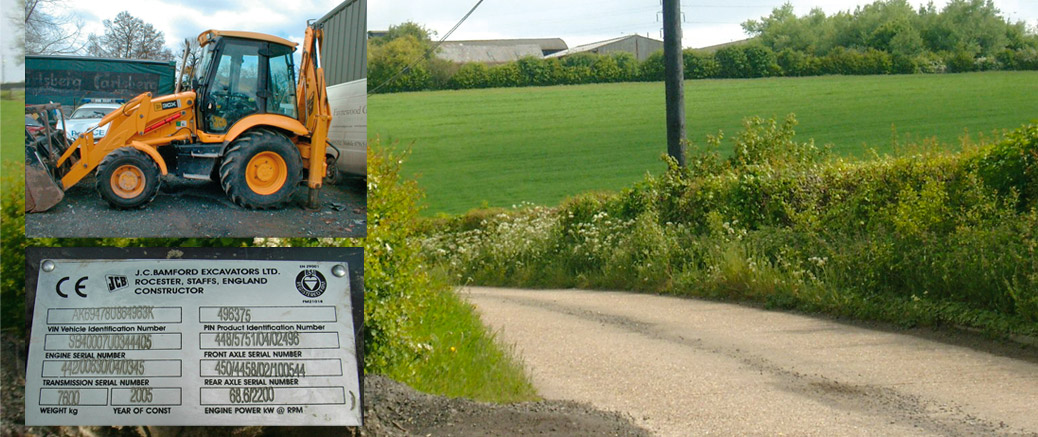 The London Times recently carried a useful article compiled from a report by the NFU Mutual in which the company announced its rural crime figures.
The imagination of criminals continues to pose a developing challenge to all law-abiding folk in the agricultural plant equipment sectors. Nothing stays still, and there is (what might have been termed in Cold War days) an "arms race" between the forces of good and the forces of evil.
Cloning, altering serial numbers, selling non-existent plant on-line, cyber crime and attempting to neutralize GPS systems are all commonplace. Some police forces are introducing new training schemes to help their officers to combat these increasingly sophisticated criminal methods.
Relatively straightforward and non-tech plant theft continues in the meantime, albeit at reduced levels in some cases and places. In comparison with the high-tech side of plant criminality, the more traditional forms of plant theft might be categorized as "good old-fashioned crime", to use a former Royal Ulster Constabulary turn of phrase!
But the overall effect should never be underestimated, not least in terms of financial damage to the law-abiding element of the population. NFU Mutual's rural crime report mentions that the cost to the UK economy of crime in the countryside has reached £42.5 million per year, and itemizes trends in each part of the country. The North East and the east of England are worst affected overall, with the Midlands and Northern Ireland experiencing the biggest rises in rural crime.
At TER we continue to provide expert testimony to the authorities and to increase the chances of prosecution, whenever and wherever we are aware of serial numbers having been checked by criminals to establish that a piece of plant is "clean", and then the same VINs being cloned onto a stolen item. It is our experience that criminals sometimes apply a high degree of professionalism in this cloning and it then takes a site visit by one of our experts to establish the truth. In the interests of beating the criminals and despite being a commercial organization we do this work at our own expense.
Our colleagues in other companies provide complementary capabilities in order to make it more difficult for the criminals. Collectively we will continue to reduce the likelihood and impact of criminal activity from what it would otherwise be.
In the meantime there is considerable scope for improving security. Security tips can be found on our website and there are excellent marking and tracking products which complement TER checks to make life more difficult for thieves.
Specifically on quad bikes in a rural context, we note that the ratio of TER theft checks to the number of actual thefts is extraordinarily low. We would advocate that insurers insist that TER checks be done before they provide cover for quad bikes, in order to reduce the incidence of their clients unwittingly handing over money for stolen quad bikes.
We continue to encourage the prompt reporting of losses by insurers and by private individuals and companies. It costs nothing to report a theft to TER - as well as to the police, which is essential. Reporting thefts improves the utility of databases as well as the likelihood of finding out what has happened to the item and where it is. A few insurance companies are not as assiduous as they might be, when it comes to reporting losses to those who can help with the follow-up. This is to the detriment of their clients. In short, there is much more that can easily be done to make it harder for criminals, despite their increasingly sophisticated techniques.