Strange as it may seem, plant is not always used by the good guys - and is not always used successfully...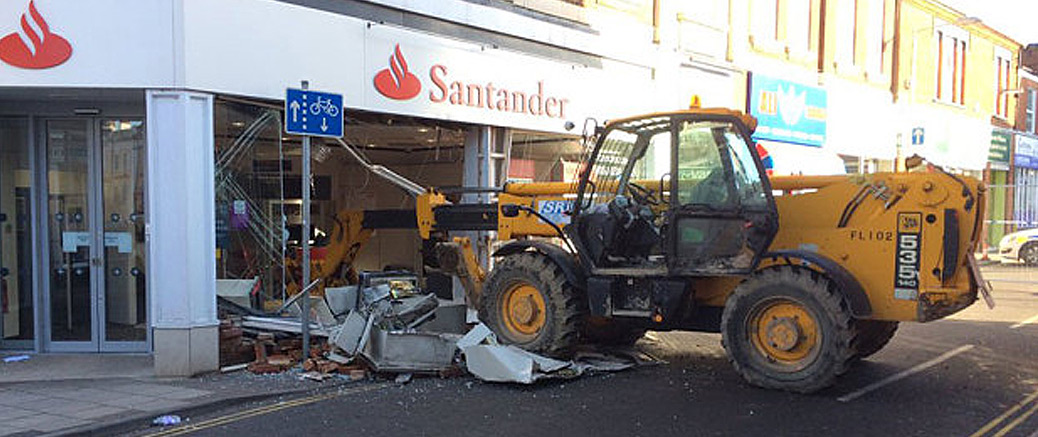 In the early hours of 15th February, a JCB telescopic handler was driven forcefully into the external wall of a bank in Bedfordshire, with the aim of breaking into an ATM machine.
The ten-tonne lifting machine was left wedged in the building after four people attempted to steal a cash machine built into the front wall of the Santander branch in Leighton Buzzard. The raiders were unsuccessful; amazingly, the ATM remained intact, and was left lying among the debris.
A restaurant on the other side of the street was also damaged, as the team attempted to manoeuvre the vehicle.
The machine is believed to have recently been stolen from the Leighton Buzzard area. The identity of the criminals remain (at the time of writing) unknown.
The morals of this story might be:
If you plan to buy an item of plant in Bedfordshire, check it with TER first.
JCB's might be excellent machines, but there are limits to what they can do – at least, in the wrong hands!
Look carefully behind whenever you approach an ATM…
On a more serious note:
Police are investigating the crime and ask for any witnesses to contact 101, quoting reference number 34 of 15th February.
Photo courtesy of @neilbradfordtv/BBC/Twitter.