We talk to Paul Caunce, the man behind Agri Machinery News, a new resource for the forward thinking farmer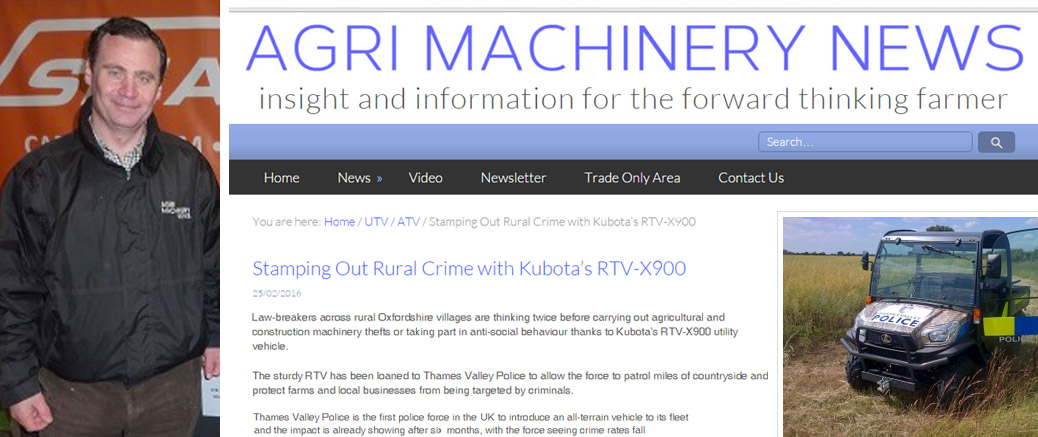 TER: To start, can you give our readers a brief history of Agri Machinery News - what kind of content do you produce and who is it aimed at?
Paul: "That's a really good question! Agri Machinery News was launched in August 2014, with the intention of it being a 'hub' for the farm machinery trade (dealers and manufacturers, as opposed to farmers). I wanted to give the trade information and news about their industry on a regular basis, as opposed to them having to thumb through magazines and websites hoping to see something that was relevant for them."
"It has worked really well, however we did notice that during the last 6 months of last year, we were getting a lot of farmers visiting the site too. That was interesting to us, as it showed that there was an appetite from farmers for the content we were producing. However it also produced a problem for us, as the farmer wasn't our original audience, but they were clearly liking what we were doing! With that in mind, as of January 1st this year we re-branded and made www.agrimachinerynews.com a website for the 'forward thinking farmer'. The trade, which is extremely important to us, is now served by a brand new registration only website www.agrimachinery.trade So farmers have something that is for them, and the trade do too!"
We know who your readers are now so let's find out a little bit more about you! What were you doing before Agri Machinery News?
"My background since I was 18 (I am 43 now) has always been in publishing, first with newspapers, and then trade magazines. This included 8 years in total working for Farmers Guardian, whose head office just happens to be close to where I have always lived. Joining Farmers Guardian as a 20 year old really changed my life, as no other job before or since has ever compared. That however, was before I started Agri Machinery News! Hard to believe that aged 10-17 I wanted to be a trucker, but life takes you on unexpected journeys and paths!"
So if you've worked at other papers, what do you think makes Agri Machinery News special?
"Our ethos is to be excellent at a few things, rather than be quite good at many. We also like to be original in what we do, as opposed to being a 'me too' kind of business. A good example of this thinking is our new video site www.agrimachinery.video In a nutshell, it's like YouTube for farm machinery, and is different to anything else out there. With over 1100 videos from 55 different manufacturers (and growing!), it's a really easy way for farmers to search and watch farm machinery videos and locate the nearest dealer for the piece of kit they have just watched."
To finish, we'd like to know what you enjoy most about your job?
"I love every single minute of what I do, I honestly do (OK, maybe not doing the monthly accounts!). Two things really stand out. Firstly, the people. To work with, speak to and serve farmers and the trade is brilliant. The most lovely down to earth people you could ever meet. Secondly, to have dreamt up a concept of a farm machinery website with a difference, then to see it grow and develop to the point where I have three websites that people really like is fantastic. Sometimes I really do have to pinch myself!"
Thank you Paul - we look forward to the next update!
Visit www.agrimachinerynews.com to find out more.